Product Information
Instant Tyre Repair Kit Tyre Pando C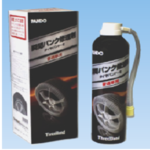 Car tyre puncture happens unexpectedly. It is certainly troublesome when puncture happened suddenly, especially during a rainly day, on an express way, during night time, in a suburban area, ets. Tyre Pando C is a user-friendly tyre repair kit which can easily tackle those incidents without tools.
Better result if the cause of puncture, i.e nail, etc. was removed.
After the sealant was injected, drive in a safe speed mode for a certain distance to balance up the tyre.
Be careful when driving if the puncture cannot be repaired due to larger hole, i.e 5 inches nail size, etc.
Do not drive if the tyre is not inflated after the sealant was injected.
Not applicable to puncture on side wall of the tyre, busted tyre, etc.
This product is used for emergency puncture solution.
Please arrange the tyre service as soon as possible.
Application :
Well shake the can up and down for about 15 seconds.
Tighten the can nozzle tip to the tyre air valve.
Remove the cap, keep the can straight up and press the spray button.
Keep injecting the sealant for about 60~75 seconds.
Stop the injection once the tyre is inflated and able to move when driven.
After the injection, move in a safe speed mode for about 3~5km.
Package size:
385ml
These are examples of products.
To inquire about other products, please click here.