Product Information
Super Chain Lube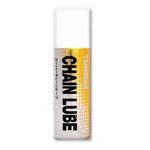 Super Chain Lube is a multi-purpose lubricant excelling in penetrability into gaps between chain pins and bushes, lubricity and corrosion protection performance. The lubricant is applicable to metallic chains of cars, forklift trucks, motorcycles and farm equipment.
Application:
Shake well before use.
Wipe moisture, oil and other contaminants off the surfaces to be sprayed with it.
Do not spray a large amount of the liquid at a time.
Package Size:
120ml
These are examples of products.
To inquire about other products, please click here.