Product Information
TB1211 Silicone Liquid Gasket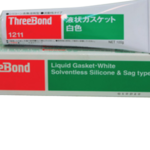 Characteristics:

White Paste
Temperature Range of -60 to 250ºC
Sag
Cures at room temperature when in contact with air to form an elastic material.
Features:
Solventless. Minimal Shrinkage
Heat, Cold and Weather Resistance
Excellent Electric Insulation
Low viscosity. Superior workability
Can be used in combination with solid sheet gasket for temporary fixing of the O-ring.
Application:
For sealing screw thread of stainless steel pipes. Ideal for sealing gaps in turbines, flanges, other areas where resistance to high temperature is required.
Package size:
100 grams/ tube
These are examples of products.
To inquire about other products, please click here.