Product Information
TB1215 Silicone Gasket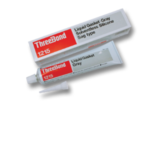 Characteristics:
Gray Paste
Temperature Range of -60 to 250ºC
Fluid
Cures at room temperature when in contact with air to form an elastic material.
Features:
Solventless. Minimal Shrinkage.
General Purpose Liquid Gasket
Superior Engine Oil Resistance
Superior Gear Oil Resistance
Heat, Cold, Weather Resistant
Has Excellent Electric Insulation Property
Application:
Seals various flange surfaces. Suitable for sealing wide surfaces and large clearances.
Can be used together with solid gasket.
Package size:
250 grams/ tube
These are examples of products.
To inquire about other products, please click here.