Product Information
TB1342H – Anaerobic Adhesive & Sealant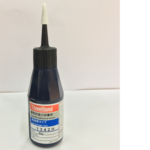 TB1342H is a low strength anaerobic sealant. The sealant does not cure while it is exposed to air. When it enters a gap between metallic parts to be fastened, it quickly reacts and cures to prevent screws from loosening or seal parts. ThreeBond 1342H is free from di-n-butyl phthalate.
Features
Prevention of screws and bolts from loosening, and sealing
Packing size
50g
These are examples of products.
To inquire about other products, please click here.