Product Information
TB6642B Easy-to-use liquid car wax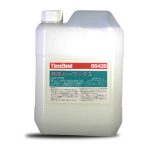 ThreeBond 6642B (hereinafter, referred to as TB6642B) is a coating material whose main component is modified silicone. The coating material forms a strong film excelling in glossiness, durability and stain resistance through ion absorption. Since it does not cause glare on glass surfaces and does not affect resins, it is applicable to all surfaces of cars.
Features:
After a car is washed, the wax can be applied at the same time when water is wiped off the car body. The car can be waxed quickly and easily.
Since the wax does not leave white traces, it can be applied to the body, glasses, plated parts and any other parts.
It is effective in reducing the generation of static electricity.
It reduces glare on glass surfaces and improves the transparency of the surfaces.
It protects the body from water spots.
After it is applied to the car body, the glossiness can be restored only by washing with water.
Uses:
All exterior parts, such as exterior painted plates, windshields, rear windows, tires and bumpers, of white cars and dark-colored cars
All car interior parts except glass parts
Package Size:
TB6642B – Liquid Wax (2 ltr)
These are examples of products.
To inquire about other products, please click here.